Cycling can be a good break from the hard studying. Alone or with friends, for a short trip or a longer one to explore a new part of the country!
Recreational Cycle Network
Wageningen is linked to the large cycle network in the region 'Veluwe'. It consists of 1600 kilometers of tracks in 19 municipalities. The cycle network has been developed in such a way that you can cycle from node to node, without having to consult complicated maps. All cycle track crossings have a specific number. Also, information boards were put down to help you choose your own route.
Check out this website to plan your cycling route!
Fast cycling routes
The region Arnhem - Nijmegen has several fast cycling routes. And new routes are added. Fast cycling routes connect residential, work and shopping areas in the different towns and cities. They are fast, direct, comfortable and safe routes over a longer distance. Cyclists are given as much priority as possible. Want to find out more about fast cycling routes in and around Wageningen? Click here.
In the map below, several types of (recreational) cycling routes are depicted in and around Wageningen. It includes countrywide cycling routes, cycling nodes network (as discussed above) and the fast cycling route from Wageningen to Arnhem.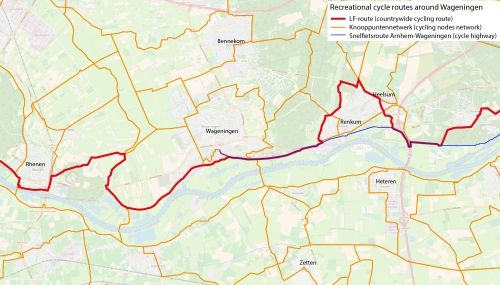 Cycling tours
Several cycling tours are being organised on a regular basis. Many of these have a theme attached to them, for example the landscape and agricultural tour, or the sculptures tour. More than 200 sculptures can be found in Wageningen! Click here for more information on these and other cycling tours (Dutch website).
Bicycle rent for groups
There are many places to rent bicycles, tandems, trailer bikes, child's seats etc. in Wageningen and surroundings. For small groups and families as well as individuals. Bringing and picking up at a location of your choice is possible, but you can also pick up and return the bikes yourself. In short: (almost) anything can be arranged, even on Sundays!
Click here for an overview of addresses where you can rent a bicycle.
Cycling or walking through the city
Wageningen is a fun city to discover by foot or by bicycle. Click here for inspiration on what to visit!
There are plenty events organized in and around Wageningen that focus on or include cycling.