Combining cycling with Public Transportation
Public transport
Public transport (abbreviated 'OV' for 'Openbaar Vervoer' in Dutch) is available to all, and can be found all over the world! Public transportation in the Netherlands includes traveling by train, bus, tram, metro, and ferry. To gain access to public transportation in the Netherlands, we use a public transport card, called the "OV-chipkaart".
What is the 'OV-chipkaart'?
The OV-chipkaart translates into 'public transport chip card'. It is a payment method for the Dutch public transport system. It is the size of a credit card and contains an invisible chip. You can load money onto the card, which allows you to freely check in and out of the public transport system across the Netherlands. Alternatively, you can load a single trip or subscription onto the card.
Click here for more information.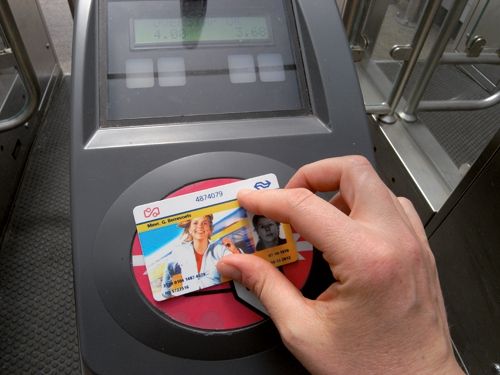 Public transport in Wageningen
Traveling by public transport is easy in Wageningen! You can choose to travel by bus or taxi. Although Wageningen itself has no train station, you can access the city best via the nearest train station in Ede (NS station Ede-Wageningen) and catch a bus from there to the city centre or University.
Route planner
Use a route planner to plan your trip! Fill in your origin and destination and the time of departure or arrival, and the website will present a detailed trip. Two handy travel planners are listed here:
Traveling door to door by bicycle (first and last mile)
There are many transportation modes you can use to for the first and last mile of your journey, like the bus, tram and metro. The most popular method however is the bicycle. You can use your own bicycle for this purpose, or rent a bicycle available specifically for this part of your journey. Please click here to find more information on where to rent a bicycle for this purpose.
A folding bike is also used often by commuters and students alike in public transportation. It is literally a bicycle that can be folded in order to make it easier to transport. It provides you with a solution for the first and last mile that you can simply take with you on the train or bus.